Archives / 1970 / September
"Here Am I"
THEN said I, Here am I; send me" (Isa. 6:8). In a moment of enthusiasm I quoted these words to our ministerial secretary and the next thing I knew I was assigned to a church for a series of meetings. This led to deep heart searching to see if I were really up to it. I am used to preaching; but evangelism this would be a new experience.
After the first attempt in my first series I was more aware of my deficiencies than ever, but there were baptisms and I had had a personal experience such as I had not had in a long time. Meeting the people, talking to them directly about our message, making calls and praying for decisions, this was certainly new, but what a blessing! It soon led to a third series.
There is much to be said for this type of personal work. Laymen can hold successful meetings and there is no reason why any worker cannot do it. The church may be small, but what a blessing a series of meetings is to all. The one doing the preaching is the most blessed of all. Luke 1:76 gives us the call, "Thou shalt go before the face of the Lord to prepare his ways." This is a work that all of us must have a part in. There may not be time enough to do all the work of one's own job, but the little bit taken out for a short series of meetings will be more than worth the extra effort.
Briefly stated, the program I am presently following is this. I leave the office as late as five o'clock and arrive at the church, 90 miles away, at six-thirty, an hour be fore meeting time. There I use the pastor's study, with instructions for him upon his arrival to go ahead with the meeting and permit me to study until seven forty-five. This gives me a full hour for study and I am fresh for the sermon. Since evangelism is not my line of work I need the extra study for each subject. This helps me to know my texts well and makes it easier to present the message with the urgency it deserves.
After the meeting (we close on time at exactly eight forty-five) I drive back to my home, arriving between ten-fifteen and ten-thirty. This is not so late as to upset my usual office work the next morning. Much more could be done, but this must be left to the pastor if I am going to keep up my regular work. The pastor also does the baptizing and carries through on the follow-up. My work may not be much, but it does much for me to know that I am making some contribution to direct evangelism. We who work in offices do not have many chances to get close to a church and to the people. Now I look forward to these meetings. Our own souls are in danger if we have no direct contact in soul winning. This is a work I would commend to all our workers. May I suggest that you report to your ministerial secretary, "Here am I; send me."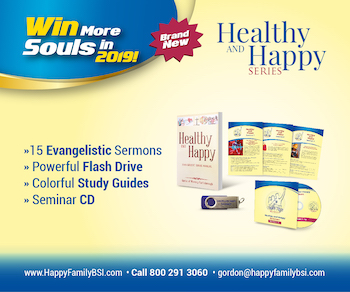 ---
Ministry reserves the right to approve, disapprove, and delete comments at our discretion and will not be able to respond to inquiries about these comments. Please ensure that your words are respectful, courteous, and relevant.
comments powered by Disqus