Archives / 2010 / May
Coronary Health Improvement Project
Editor's note: Congregations often present programs to benefit their members and the community. CHIP is one such program that congregations may want to consider offering.
Suppose your physician said that you have less than a year to live, you need to be put on ten medications, an oxygen tank, and a sleep machine. Even worse, you were so exhausted you often returned to bed after your morning shower.
One woman's testimony does equal that recital of health hazards. And undoubtedly, in this world of horrendous individual health problems, her nearness to death's door could be replicated again and again.
Verna Van Nuland from Wisconsin, United States, was in this situation and told to go see Kay Theyerl, MD. "I cancelled the appointment several times." But she did, finally, see Dr. Theyerl.
After Dr. Theyerl analyzed Verna's medical history, she described the Coronary Health Improvement Project (CHIP) and urged her patient to register for the classes that were already into the fourth night of a six-week program at her hospital.
By the end of the CHIP program, Van Nuland had lost 24 pounds, started an exercise program geared to her condition, and, as a result, her energy began to return. When Dr. Hans Diehl, DrHSC, MPH, the founder and presenter of the CHIP program, came to speak to the alumni, he drew a name for someone to attend the next class, free.
"That name was mine," says Van Nuland, "so I went back for the fall class."
Following the second program, she does not take any medications, has lost 85 pounds, does not use the oxygen tank or sleep machine, and her energy has returned even more. She will be 70 years of age in May and helps facilitate the CHIP program in her area.
The results of Verna, having followed the CHIP program, have been duplicated by many others.
What the CHIP program offers
As an educationally intensive intervention program, the CHIP seminars focus on reducing coronary risk factor levels through the adoption of better health habits and appropriate lifestyle changes. The CHIP program is designed to substantially lower high levels of blood pressure, blood sugar, cholesterol, provide relief for heartburn and angina, reduce excess weight, and lessen depression.
Dr. Diehl is the speaker in these video lecture series. He is the director of the Lifestyle Medicine Institute and a clinical professor of preventative medicine at Loma Linda University.
The results of the HeartScreen coronary risk assessment are provided to each participant early in the program, and participants are encouraged to share their results and work closely with their personal physician regarding their need for medication as they modify their lifestyle. Immediately following the program, the heart screen is conducted again, and a detailed report is prepared for each participant that compares their risk factor levels before and after going through the program. Also included in the CHIP sessions are personalized counseling, food demonstrations and samples, and, following the program, regular alumni support meetings.
Harold Burden became a full-time volunteer right after he retired ten years ago. He says that "CHIP is about making choices and making friends. Making choices suggests freedom of action without coercion, manipulation, or judgmentalism. It allows people to press at their own pace, on their own schedule. Making friends suggests both the duty and privilege of sharing the good news with others and inviting them to join us in our 'journey toward optimal health.' "
The beginning of CHIP
The first CHIP program was conducted in Creston, British Columbia, in the late 1980s. Dr. Sid Kettner, a physician who practices in the town of Creston with about 5,000 residents, was asked to pilot this community-based health promotion program.
Because Dr. Diehl had heard that Dr. Kettner was interested in health promotion, not mere disease treatment, plans were set in place— Dr. Diehl would do the lectures and Dr. Kettner would answer the medical questions. About 450 people responded to that first program.
Dr. Kettner described what happened: "The town changed in character. Walking shoes were ordered in by the hundreds, bananas by the ton, bakeries and coffee shops tried to outdo each other in offering healthy sandwiches with the most number of grains in their breads. Monthly alumni programs still attract more than thirty graduates who gather to enjoy nutritious food, music, inspiration and humorous readings, and an education/ motivational PowerPoint presentation. They have seen their angina disappear, their blood sugars, blood lipids and blood pressures drop, their osteoarthritis lose its painful grip on their bodies."
"Of course," Dr. Kettner says, "the star of that first program, Bob Anderson, who couldn't walk to the mailbox at the end of his driveway due to severe angina, later cycled over three thousand kilometers from Creston to Ottawa, Ontario, in just sixty days at the age of sixty-seven. Impressive! No wonder that the apathy has passed and medical personnel throughout the worldwide community now see the value of CHIP." Anderson died last year. His widow testified that "Bob was so grateful for the extra twenty years with eighteen of them very good years . . . after CHIP!"
In 1999, the program came to Rockford, Illinois, at the invitation of the Swedish American Health System and with the encouragement of Roger Greenlaw, MD, a gastroenterologist and clinical professor at the University of Illinois, College of Medicine at Rockford. The program grew rapidly under his leadership. Since then the CHIP program has been operated and managed by the CHIP Alumni Association of Rockford. Here, more than 5,000 have graduated from the CHIP program and more than 20 restaurants offer CHIP-approved menus.
Pastoral involvement
Why would a congregation sponsor a CHIP program? This program was not conceived as benefiting only church attendees, but to be shared with the community by selected members of a congregation. "Those who lead would know," says Diehl, "that a health message shared should not be considered a duty, but a gift." Dan Matthews, former executive producer and host of Lifestyle Magazine, believes that "every church should make the establishment of a CHIP Chapter a priority for their community. We should conduct this type of program," says Matthews, "because we care about people and are committed to making friends for God." Matthews, retired, continues as a lifestyle media consultant and is helping Diehl with the marketing of the CHIP program. He believes that CHIP has become the best program available to teach people how to live.
"If your church closed its doors tomorrow in your own town, would anyone notice?" asked Roy Terretta, CHIP director in Durham, North Carolina. As a result of Terretta and his wife's, Zeleny's, leadership, the Five Oaks Seventh-day Adventist Church sponsored its first CHIP program last year with 13 people attending. The second CHIP program is currently in progress.
Wayne Dysinger, MD, MPH, chair of the Department of Preventive Medicine at Loma Linda University, has a dream: "to have every church as a healthy lifestyle support group." CHIP is documented to be the best community-based, intensive, therapeutic lifestyle change program in the world," he says. "There are seventeen published scientific papers on the CHIP program. In addition, medical students at Loma Linda University get credit if they take the CHIP elective."
Dr. Larry Shipowick, a retired dentist and the director of the CHIP program in Kelowna, British Columbia, suggests that church administration centers require each pastor to attend one entire session. Currently, Shipowick and his wife, Vicki, are conducting a program in the Kelowna area.
Research affirms CHIP
John Kelly, MD, MPH, executive director of the Rocky Mount Lifestyle Center, says that "a study using CHIP to treat diabetic patients showed a twenty-six percent decrease in fasting blood sugar in weeks—a remarkable improvement by any standard. These patients were already receiving medical care." Dr. Kelly has documented evidence in one case, "of reversal of ischemic heart disease from before and after stress echo evaluations by cardiologists."
"If implemented on a national scale," reports Caldwell B. Esselstyn Jr., MD, a preventative medicine consultant at the Cleveland Clinic in Ohio, "the CHIP program could improve the health status of America more than all the efforts of modern technological medicine combined."
The late British physician, Denis Burkitt, explained that, "The concept that Western diseases are lifestyle related, and therefore potentially preventable and reversible, is the most important medical discovery of the twentieth century."
The 2010 Olympics torch runner
Albert Baldeo, a retired United Church pastor, told how he became dizzy and almost fell into an open grave as he was finishing a graveside ceremony. As a result of this near catastrophe, he followed his friend's suggestion and registered for the CHIP program. His initial tests revealed that he had high blood pressure, high cholesterol, and was overweight.
That was 20 years ago. As a result of participating in the program, he lost his extra weight and lowered his blood pressure and cholesterol. "The program brought me hope," Baldeo said.
Recently Pastor Baldeo, in spite of his Parkinson's disease, carried the 2010 Olympic torch in Kelowna, British Columbia, for a short distance.
CHIP changes lives
To date, more than 50,000 people have participated in these programs worldwide.
Results have been published in numerous scientific articles in peer-reviewed medical journals, including the American Journal of Cardiology, the Journal of the American Dietetic Association, and Preventive Medicine. As local church groups continue to sponsor CHIP programs, church and community people will notice changes in their health as well as in their outlook on life.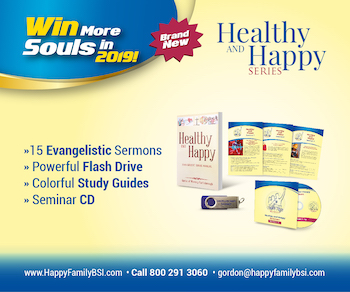 ---
Ministry reserves the right to approve, disapprove, and delete comments at our discretion and will not be able to respond to inquiries about these comments. Please ensure that your words are respectful, courteous, and relevant.
comments powered by Disqus