Archives / 2018 / June
Dateline
Young Adventists in action for a day
Worldwide—"Simply fantastic!" This is the reaction of many that assisted with Global Youth Day (GYD2018), a special day coordinated by Pako Mokgwane, an associate youth director of the General Conference, where about eight million youth world-wide participated in the fifth edition under the motto "Be the sermon." And they were.
This year, the main theme was "Food & Water Drive." From Fiji to Zimbabwe, youth animated a long series of pro-grams, distributing water and food along the way, in schools, nursing homes, and everywhere they went.
From the faces of the people receiving, it was easy to see their wonder at such generosity. From the faces of the young people participating, it was clear that distributing the food and water was much more than a generous gesture. It was a gesture in response to Jesus' call when He said that He was hungry and thirsty, and we gave Him food and drink.
The youth were very original in their ideas of different ways to distribute food and water, especially water. Some of the projects provided a bottle of water to the people that they encountered. Some focused on the necessity of providing fresh water in homes and supported the construction of a pipe system. Some projects provided water for agriculture in dry-climate countries.
Some chose to use the water to clean homes.
The most original project was in Hong Kong, where young people organized a dog-cleaning service.
Some projects replicated last year's topic, donating blood. Others focused on a health assessment (blood pressure, blood sugar levels) for many of the communities' elderly folks. 
Some youth sang for homeless people at a shelter where they could come together and get a warm meal.
One in four children go to bed hungry every night" (in some parts of the world), explained one of the youth leaders working with his youth in community service. "We packed ten thousand meals today. Each package feeds a family of six. That's sixty thousand people to be fed." A good number of children went to bed well-fed that night.
It is worthwhile to also identify a group of deaf youth in Spain that animated a simple but effective program: "hugs for free." And as in the previous events, the hosts of GYD2018 were the awesome Kerhys Sterling and Sam Gungaloo. They accompaniedthe youth along the journey with their invaluable sympathy.
Sam Neves, Communication associate director at the General Conference of Seventh-day Adventists, stated, "These young Adventists are fully determined to be the sermon as they reach out to their friends. They gave themselves to their community. It could be something that impacts an entire community or something as small as a smile. There are many ways to be the sermon."
The new General Conference youth director, Gary Blanchard, was excited to participate for the first time in this special marathon. "Just remember, guys," he concluded, "the Young Adventist's Day is not just one day, but rather every day. Continue to be the sermon." [Corrado Cozzi, CD-EUDNews]
Digital world, digital church, digital God
Binfield, United Kingdom—Do you read the Bible on your phone? 
Do you connect with other church members on Facebook? Do you watch church online? Is it possible that, in a networked world, God will somehow look different? Tim Hutchings, research fellow in Digital Discipleship at St. John's College of Durham University, looked at these and questions like them in Newbold's March Diversity lecture. His lecture offered important reflections for believers using technology on their journey of faith.
He began by looking at the concerns that people had when technology first began to impact the life of the church. Is it possible, people asked 20 years ago, that God in a networked age will look, somehow, different? Would "mediatization" take place; that is, the reshaping of ideas to fit the logic of the media? Alternatively, would religious communities reinvent and reimagine technology according to their own core values and beliefs? Would our ideas change, or would we change the technology to protect the shape of our ideas?
Some people thought that the internet was going to compete with religion—that churchgoing would vanish as people watched church online from the comfort of their armchairs. Religious leaders were very worried about the effects on their authority of the more democratic social media. On the internet, the church would be unable to impose its rules on the community.
People who saw in the internet potential for the creation of community were more optimistic. They believed, rightly as it turned out, that the internet would create new voices, rituals, and communities. Small experimental online communities, like The Church of Fools, were developed, said its creators,to follow the example of John Wesley in "taking church to where people are in the twenty-first century—on the net."
"What is really happening," Dr. Hutchings said, "is that the internet is now just part of everyday life. Online church is part of religious life, not an alternative. Online church services attract people who were going to church anyway or who wanted to but were prevented by sickness, disability, or other limitations. Online religion has just become part of the mix. Some groups are adapting and thriving, and some people, like the pope on Instagram, have discovered a way of using the media that works for them."
What about electronic versions of the Bible, such as YouVersion, to which a lot of resources have been devoted? As the Bible ceases to be a heavy paper book and can be easily accessed on one's phone, new practices are emerging. The Topverses website, which lists those texts read most frequently on the internet, suggests that people are most  likely to access verses that give them hope and encouragement. Technical and theoretical parts of Scripture that have very little everyday application to twenty-first century life tend to be sidelined. Electronic reading of the Bible may be enabling the development of a less traditional canon.
Dr. Hutchings completed his lecture with a case study of the Scripture Union's Bible adventure app Guardians of Ancora, developed in the hope that it would be a safe place for children, families, and church groups to explore their own faith and reflect on the impact of the Bible stories outside the game. He pointed out that if it is to be handled with integrity and if the game is to have any credibility, the Bible story it tells cannot be changed. He suggested that the game might offer factual biblical knowledge; he seemed less certain that the game would contribute to the development of personal faith in children.
As usual, the Q&A ranged far and wide. Questions about the limitations of faith mediated through technology, the place of emotions online as opposed to emotion in personal faith, the nature of "liquid Scripture," and the successful use of Twitter by religious leaders. There were lots of ideas meriting further thought by those in the room and, of course, those watching on the Newbold livestream. [Helen Pearson, tedNEWS]
Reaching millennial generations event includes open invitation to be proactive
Berrien Springs, Michigan, United States—For years, we have been saying we have a problem with young people and the church," said Allan Martin during the opening plenary session of the Reaching Millennial Generations  event  at  Andrews University (AU) April 10, 2018. "Well, we have a problem if we keep repeating that phrase but do nothing about it." Martin, a Seventh-day Adventist pastor and researcher, was among the score of presenters and hundreds of people who gathered to network, discuss, and get acquainted with new and proven methods of reaching younger generations for Christ.
"We are talking about the largest generation of young adults in human history," said Martin. "In many senses, it's a generation like no other." For youth leaders, working with millennials can present wonderful opportunities, presenters noted.
"I'm privileged to work with millennials every day of my life, and I know they don't want business as usual," said Andrews University president Andrea Luxton in greeting the audience. "We need their creativity, their perspective, their ideas."
At the same time, relating to millennials can present a unique set of challenges. "How do we reach people who take little pieces of this and that?" wondered Adventist Church Global Mission Centers director Homer Trecartin. "How do you relate to people who think nothing is an absolute in their lives?"
Experts agree that current developments in technology and society, in general, have presented challenges never anticipated. "Post-Christian and secular—no doubt, we are living in a very complicated world," acknowledged AU Seventh - day Adventist Theological Seminary dean Jiří Moskala. "Young people are bombarded from every corner. But there is a silver lining as current challenges have triggered essential discussions. It has led us to reflect on the topic, which is very good," he said.
Martin's presentation did not try to sugarcoat current challenges to millennials' engagement in church. He said, "Millennials are asking, 'Does church really matter?' These are young adults who consider themselves fans of Jesus but not of the church. Many feel they cannot ask the more pressing questions at church. And technology gives them answers which seem to make sense but [are] not necessarily the truth."
Martin shared three hands-on suggestions that he thinks can jumpstart greater engagement and interactions with millennials.
"First," he said, "we need real dialogue—we need to stop ignoring white elephants in the room. We must foster intergenerational relationships with millennials by being willing to discuss science, sexuality, and other hot topics in a nonthreatening environment," he said. In accomplishing this, the impact of older church members can be essential. "For millennials, a youth pastor is a paid friend, so it often doesn't count," he explained. "They need older meaningful people in their lives who get interested in their activities. And a small, simple act can go a long way to reach out to them," Martin said.
Another element in relating to millennials is showing forgiveness and acceptance. Martin said he is thankful that in many places, it is already happening. "Millennials are developmentally in process," he said. "We must have patience—patience to build relationships before judging them." Drawing a parallel with Jesus' parable of the lost son in Luke 15, he said older members should be willing to go the extra mile to reclaim young people who have distanced themselves from the church. "It is the host of the party who chases the eldest son and invites him to come back," he said.
Finally, Martin suggested that older members create spaces for sharing stories. "Starting all your interacting with 'When I was your age' is a turnoff," he said. "A turn-up, on the contrary, is simply replying, 'Tell me more,' and being open to listen." Talking, however, is not the only thing you can do with millennials. "Taking part in intergenerational mission trips, for instance, is a proven method of creating spaces for meaningful interactions," Martin said.
"Above all, and despite what statistics say, it is essential we remember millennials are not numbers—they are actual people," said Martin. He invited everyone to think and write down the names of three millennials in their home churches and to pray specifically for each one of them. "It is crucial we know young people so well that we can pray for their needs and dreams," Martin concluded. "Prayer will work wonders." [Marcos Paseggi, Adventist Review]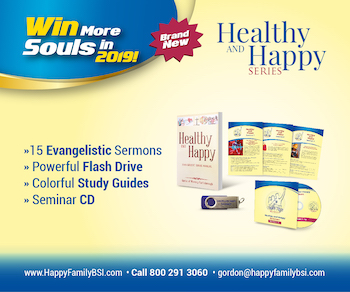 ---
Ministry reserves the right to approve, disapprove, and delete comments at our discretion and will not be able to respond to inquiries about these comments. Please ensure that your words are respectful, courteous, and relevant.
comments powered by Disqus