Archives / 2018 / June
Editorial: It's their time now
Sheldon Vanauken tells of how he gave up faith in Christianity as a teenager: "There were four specific inadequacies in the only Christianity I knew: it was not exciting, not positive, not big enough, and not related to life. . . . Who could believe that here in this stuffiness, with all the beauty and laughter and pain of life held at bay outside the church—who could believe that here were the truths of life and death? I could not, and I doubted whether anyone else did. I turned away from this religion and declared for atheism."1 I discovered that the faith our young people choose really is a matter of life and death.
While pastoring in Manchester, England, we pleaded with our young people not to join the Branch Davidians, not to attend a so-called camp meeting in Waco, Texas. They said they had learned new light from Steve Schneider, David Koresh's associate. They said we pastors were hiding things from them. We read to them, "There are a thousand temptations in disguise prepared for those who have the light of truth; and the only safety for any of us is in receiving no new doctrine, no new interpretation of the Scriptures, without first submitting it to brethren of experience."2 They listened—politely— then they went to Waco—about 10 of them. Then we got the news. More than 80 dead—including our young people. Could it be that their survival is connected with their willingness to listen us?
Some new light is evidently not from God. But I asked myself, "How open or closed should I be to God speaking a fresh word to me?" Then I read, "It is a fact that we have the truth, and we must hold with tenacity to the positions that cannot be shaken; but we must not look with suspicion upon any new light which God may send, and say, Really, we cannot see that we need any more light than the old truth which we have hitherto received, and in which we are settled. While we hold to this position, the testimony of the True Witness applies to our cases its rebuke, 'And knowest not that thou art wretched, and miserable, and poor, and blind, and naked.'"3 Oh!
There is, then, a time for everything. A time to shun new light and a time to embrace it. A time to be cautious and a time to be courageous. I confess, I was cautious about attending the recent Associated Church Press Conference in Chicago. Smugly, I wondered what fresh word could I really get. I was wrong.
On the opening night, a professor said that while the younger generation must respect the older generation, he asserted that the church is in danger of relinquishing its prophetic voice to hip hop. I sat up. The next day, a pastor declared that the church risks irrelevancy when embracing a code of silence in regard to injustice. He warned that the church risks losing its young and progressive voices. He concluded that contemporary youth must still see the church as a vital part of our society.
His words haunted me—like my memories of those Manchester young people. Could we have done more? Maybe we hadn't built trust relationships. "Ministers of the gospel should form a happy acquaintance with the youth of their congregations. . . . When you have obtained the confidence of the youth, they will listen to your words and take your counsel. . . . Why should this labor for the young in our borders not be thought the highest of missionary work?"4
Let's not just tell our young people; let's show them that the faith that we love is exciting, is positive, is big enough, and is related to life. Thank God, many young people have listened to us; are we prepared to listen to them? Acts 2 tells us it's their time now. "God will accept the services of young men and young women, if they will consecrate themselves to Him without reserve."5
A fresh, new word—new light—may come from unlikely places: a donkey, a stone, a woman—or young people. Could it be that our survival is connected with our willingness to listen them?
1 Sheldon Vanauken, Encounter With Light, Will Vaus, accessed May 15, 2018, willvaus.com/encounter _with_light.
2 Ellen G. White, Counsels to Writers and Editors (Nashville, TN: Southern Pub. Assn., 1946), 47.
3 White, Counsels to Writers and Editors, 33.
4 Ellen G. White, "God's Means for Diffusing Light (Concluded)," The Advent Review and Sabbath Herald, Dec. 26, 1912, 4.
5 Ellen G. White, Pastoral Ministry (Silver Spring, MD: General Conference Ministerial Association, 1995), 74.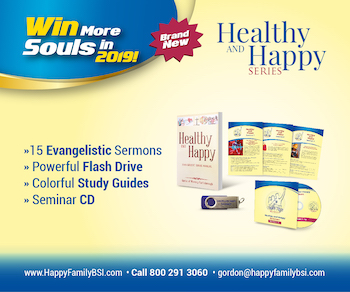 ---
Ministry reserves the right to approve, disapprove, and delete comments at our discretion and will not be able to respond to inquiries about these comments. Please ensure that your words are respectful, courteous, and relevant.
comments powered by Disqus