Archives / 2018 / August
Dateline
Baking ministry leads people to the Bread of Life in Australia

Sydney,  New  South  Wales, Australia—"If there's one thing Polish people know [how to make], it's good bread," Richard Glowacki tells me confidently. Although he and fellow church member Joel Breski have full-time jobs, they are passionate about baking and will choose homemade sourdough over store-bought loaves any day.
In 2016, Richard heard a Sabbath School mission story about troubled kids nobody wanted to work with. It touched his heart, and he began wondering what he could do to bring new people into his church family at Pendle Hill Polish Seventh-day Adventist Church, a church of mostly Polish, Czech, and Slovak immigrants outside Sydney in New South Wales, Australia.
The answer: to meet his community's physical needs for bread before he met their spiritual needs. He and Joel decided to run baking workshops for the community. They charge a small fee to cover the cost of ingredients, but otherwise, it's a labor of love.
With the full support of their church, Richard and Joel advertised their baking workshops on Facebook and through the local Polish community. Between 30 and 40 people attended the first workshop, and the word has spread since.
"One woman asked for Bible studies after attending our workshop," recalls Joel. "She began attending our Sabbath School and mentioned that she had four friends who would be prepared to pay money to have a Bible study. We were amazed and told her there was no need to pay—studying the Bible was free!"
Workshop attendees are also invited to join the church for Sabbath lunches (outdoors if the weather permits). It gives them the opportunity to learn more about healthy eating and make friends with the church members. The process has proven so successful that Richard and Joel have now partnered with several churches around Australia.
"People have asked us where they can buy our bread," says Richard. "You won't find it in any shops. Our goal is to teach—we want to equip people with the knowledge of how to make healthy bread for themselves. Then we introduce them to the Bread of Life." [Linden Chuang, Adventist Record]
Evangelistic series results in over 19,000 baptisms in Tanzania
 Mwanza, Tanzania—More than 19,000 people were baptized in Mwanza, Tanzania, many of them on June 2, 2018, after attending a Revelation of Hope evangelistic series. It was thecrowning act of a three-week evangelism series with Pastor Mark Finley as the main speaker.
Watching thousands wade into the waters of Lake Victoria for baptism, Finley said, "I will never forget the time God allowed me to witness so many miracles of salvation."
His wife, Ernestine Finley, who shared health talks during the three weeks, said she was excited and happy to see how people began to apply the health principles they learned immedi-ately after they heard of their benefits.
All presentations were broadcast live on Hope Channel Tanzania. More than 4,000 sites in Tanzania and neighboring countries received the signal.
The CCM Kirumba Stadium, where the meetings took place, was transformed into a health center. Before the meetings closed, it was reported that 9,000 patients were treated.
Also, many people who said they were tormented by forces of evil came and asked for prayers to be free. Tanzania native and Adventist General Conference vice president Geoffrey Mbwana said that many who were struggling with evil spirits found victory in Jesus.
"Some came to our prayer booth with lacerated bodies; others had been hopelessly captive to incurable diseases, but Christ set them free," he shared.
The success of the meetings depended upon the involvement of church members who contributed their time and resources. Besides visitations and invitations, some offered to refuel vehicles that were used during the series. Others freely accommodated pastors and translators in their apartments, and others equipped the stadium with powerful sound equipment. "It was total member involvement in action," said Finley in a nod to a world church initiative that invites every member to get involved in sharing Jesus.
Northern Tanzania Union Conference president Godwin K. Lekundayo reminded members that the important task of nurturing and retaining the newly baptized lies ahead. "As a mother after giving birth can't abandon the baby, so we cannot afford to lose them," he said. [Prince Bahati, East Central Africa Division News & Adventist Review] 
Ordinations, baptisms, and a clean water supply
Papua New Guinea (PNG)—Seventh-day Adventist Church members attending Mission 18 in Awan village, Onga Waffa LLG (Markham district, PNG), built a community water supply in just one week.
Funds for the water initiative were collected through offerings and contributions by Adventist churches. The project was estimated to cost almost K100,000 but was built at half its estimated cost.
"This kind of project will take a company months to bring to completion, but it took us a week. To God be the glory for the miracle we've seen," said Morobe Mission president Pastor Blasius Managos.
A baptism was also conducted on the Sabbath with 81 candidates from across Morobe Mission. 
The program was an initiative of the Morobe Mission aimed at meeting both the physical and spiritual needs of the people. [Adrian Ales, Adventist Record]
After Japan, major evangelistic drive planned for Northern Asia
 Seventh-day Adventist leaders intend to hold evangelistic meetings at 2,019 sites across the entire Northern Asia-Pacific Division in 2019.
 Division leaders approved the ambitious plan during midyear meetings on May 22–24, just as the bulk of Japan's evangelistic meetings wrapped up. The Northern Asia-Pacific Division has about 720,000 church members living among a population of 1.6 billion people.
"Two thousand nineteen sites might be too humble when we think of one point six billion inhabitants," said Si Young Kim, president of the Northern Asia-Pacific Division. "But as church leaders and members go forward with united hearts and with the TMI [Total Member Involvement] spirit, we believe the Lord will pour out His great blessings."
Adventist General Conference president Ted N. C. Wilson pointed out that "the Northern-Asia Pacific Division has embarked on what every division, union, local field, church, and church member around the world should be doing, and many are doing, as we look forward to Christ's soon return."
South Korea is expected to host the largest number of sites—1,000—in 2019. The sites will be scattered across the division's territory, including 110 sites in Japan, 110 sites in Taiwan, 29 sites in Mongolia, and 20 sites in Hong Kong.
"We believe God will be with us in our plans," Kim said. "The Northern Asia-Pacific Division is a challenging field in terms of mission. Huge waves of secularism and materialism, including political restrictions, exist in the territory. But we cannot stop mission to one point six billion people."
Gerson Santos, an associate secretary for the Seventh-day Adventist General  Conference,  noted  the challenges of reaching  Japan's  largely non-Christian population but expressed hope that immigrants could help make inroads in sharing the gospel.
"I think a revival among immigrants could bring support to the work among the Japanese," said Santos, a Brazilian native, who preached at a Portuguese-speaking church in Kakegawa, Japan. "It takes a while to be integrated in a close traditional culture like this," he added. "However, I believe the children of immigrants might be able to create a bigger impact in the future of the church as they learn the language and become more integrated in Japanese society."
The key to any evangelistic effort is prayer, church leaders said. [Andrew McChesney, Adventist Mission]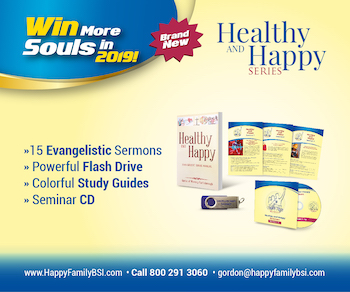 ---
Ministry reserves the right to approve, disapprove, and delete comments at our discretion and will not be able to respond to inquiries about these comments. Please ensure that your words are respectful, courteous, and relevant.
comments powered by Disqus