Archives / 2018 / November
Dateline
Silang, Cavite, Philippines — According to recent studies, the number of patients with mental health issues has grown significantly around the world in the past few years. Researchers see this issue as becoming one of the top causes of morbidity and mortality. The World Health Organization (WHO) has noted a growth of mental health issues among young people, beginning at age 14.
Recognizing this risk in countries within what is known as the 10/40 window, a densely populated region in the world where Christians are a minority, the Health Ministries department in the Southern Asia-Pacific Division of the Seventh-day Adventist Church recently facilitated the training of mental health teams in its 11 unions to help church members deal with the realities of mental illnesses, including suicide and other sensitive topics. "The new initiative aims to train individuals to be resilient when mental health circumstances arise, giving them tools so they know how to respond," regional leaders said.
The training included instruction on how to administer a variety of personality tests that accurately identify appropriate measures to help patients improve their emotional health. "Core teams were also trained in how to conduct psychological first aid for victims of disasters, calamities, violence, bullying, rape, and brutality, and to those with mental disorders," training coordinators reported.
They also discussed the various methods of ministering to dysfunctional individuals using the 12 Step Method promoted by Adventist Recovery Ministries (ARMin). ARMin is a ministry focused on training volunteers across cultures and backgrounds—in both large cities and remote areas—to spread awareness about mental health. Part of ARMin's goal is to rescue patients from mental health issues and point them to the ultimate Source of healing, Jesus Christ.
One volunteer from the Bangladesh Union Mission who took part in the training highlighted the importance of the knowledge acquired. "What I have learned from this training seminar will be of great help to my co-workers and me, to deal with our church members and others with care, kindness, and love," he said. [Southern Asia-Pacific Division/Adventist Review]
They were the hands and feet of Jesus 
Fort Worth, Texas, United States— "Tremendous!" "Impressive!" "Amazing!" This is how volunteers, patients, and community members alike described the most recent three-day mega clinic held in Fort Worth, Texas, United States, on September 19–21, 2018. The eighth in a series of "Pathway to Health" community health clinics held in cities around the United States over the past five years, the Fort Worth event stands out as perhaps the most unique.
"We had more than 6,800 patients receiving more than $25 million [worth] in services provided. We had 3,211 patients on just one day. This is the most we've ever seen in one day," said Lela Lewis, president and cofounder of Pathway to Health. "There is a great need, and we're trying to fill that need in a small way." "We had 2,200 volunteers, and approximately 50 to 75 percent of them were new," said Kim Goodge, who manages volunteer registration for Pathway to Health. "We also had a large number of volunteers who are not members of our church—probably the largest ever," she added. Providentially two well-known and influential pas-tors from the community, Kenneth Jones Jr., pastor of the Como First Missionary Baptist Church, and K. P. Tatum, pastor of the New Mount RoseMissionary Baptist Church, were quite instrumental in paving the way for Pathway Fort Worth and, through the efforts of their church members who hand delivered flyers all over the city, saved the organization thousands of advertising dollars.
"We had pastors from Baptist and Assembly of God churches, the Texas Conference, and the Southwest Region Conference all working together to impact the city in a marvelous way," said Elton DeMoraes, vice president for ministries at the Southwestern Union Conference of Seventh-day Adventists. The Southwestern Union as well as the Texas and Southwest Region conferences collaborated to fund the event, and administrators, staff, pastors, teachers, church members, and others literally rolled up their sleeves and came together to be the "hands and feet" of Jesus.
Also noteworthy is the large number of school and medical groups that came to volunteer. Southwestern Adventist University, several local academies and primary schools, Texas Health Huguley Hospital (which sent volunteers and provided all lab services at no charge), and many others too numerous to mention all contributed in their own way to make the event a success.
When asked, "Why do you do this?" Carol Schaefer, who worked in patient registration in Fort Worth and at three previous events, responded, "It's what Jesus did when He was on the earth—helping people in their daily needs."
Debra Dehning, general manager of the cardiology department, along with her physician husband, has volunteered in six clinics. "It gets in your blood," she says, "and you can't quit!"
Linda Crosier, who volunteered in the triage area, finds her involvement as a Pathway volunteer to be a fulfillment of her childhood dream to become a missionary nurse. "Ever since I was six years old, missionary nurses used to come and tell their stories. Since then, I always wanted to be a missionary nurse," said Crosier.
Dave Fiedler, a volunteer, got the idea that, in addition to serving as a chaplain during regular clinic hours, he would sleep outside and mingle with the patients as they waited in line overnight—passing out water, chatting with various groups, easing people's tensions, and praying with them. When a woman who was waiting in line had a seizure and was taken to the hospital, Fiedler was able to organize a group of waiting patients to pray for her. "This [staying outside with the waiting people] provided a tremendous opportunity to put a positive face on the organization before the people ever came through the door," he said.
Claire Diaz, director of the music department at Pathway Fort Worth, related that a man was standing in line listening intently to the instrumental music that one of the volunteers was so beautifully playing. "What is it about your music that makes me feel like God is talking to me?" he asked the musician. "Are you a Christian?" she asked. "I used to be," he told her, "but I feel like something is tugging at my heart." Thoughtfully she responded, "Maybe God is calling you." When the man asked her how we can know the will of God, the musician offered to give him a Bible study on the topic right then and there. They finished the study and prayed together, and then he exclaimed, "I thought I was coming here for physical healing, but actually, I think I came for spiritual healing!"
"I'm really impressed with all the services you are offering," remarked Betsy Price, mayor of Fort Worth. "Portablex-rays, dental services, a little bit of everything—even haircuts! It's amazing! Thank you for caring about our community." [Pat Humphrey, Fort Worth, Texas] 
North American summit on abuse calls pastors to be accountable
Columbia, Maryland, UnitedStates—"We will not bury our heads to act as if abuse does not happen," said Ivan Williams, director of the North American Division (NAD) Ministerial Association during his opening remarks on the first day of the NAD enditnow Summit on Abuse, September 24, 2018.
The two-day summit was organized to help equip pastors, teachers, volunteers, church staff, and members with the tools and knowledge to help end abuse within their scope of influence. As part of the enditnow campaign, the summit featured a number of experts—ranging from church leaders and administrators to advocates, attorneys, and women who shared their encounters with abuse.
"This is an annual event with different presenters and different topics every year because we know it's not about just hearing it once," said Erica Jones, assistant director of NADWomen's Ministries and the organizer of the summit. "We have to be reminded [of this issue], and there's always new information coming out." Local pastors, leaders, teachers, and students were invited to attend presentations in Spanish on September 24 and in English on September 25. In addition, the meetings on both days were streamed live on Facebook and YouTube so that viewers from across the division's territories and also other countries, including Mexico, Belize, Latvia, Estonia, and Bermuda, were able to send questions to the presenters and receive the summit's resources.
"Foundational and invaluable principles about and against abuse are being shared here. Kudos," said participant Lemuel Llaguno Niere through a Facebook comment. The Facebook live stream in Spanish received nearly 6,500 views within 48 hours of its broadcast. The English stream received 5,572 views within 24 hours.
Kate Ott, associate professor of Christian Social Ethics at Drew Theological School and lecturer in practical theology at Yale Divinity School, spoke on the importance of creating healthy boundaries, especially in faith communities. She said that while the policies and laws we follow help enforce those boundaries, more is required. "Religious institutions are not exempt from secular laws, and we shouldn't be. In fact, we should want higher standards," Ott said. "We are communities of care, trust, respect, and justice. We should be saying, 'The law doesn't go far enough. What else can we do?' "
In addition to being held account-able by church policies, the leaders, teachers, and church and school volunteers are held accountable by the law to report cases of abuse. "Legal responsibility comes under mandatory reporting," said Krista Blakeney-Mitchell, associate director for the Improving Criminal Justice Responses to Sexual Assault, Domestic Violence, Dating Violence and Stalking Assistance Program for the US Department of Justice. According to Blakeney-Mitchell, a mandatory reporter is someone whose professional job or position makes them obligated to report any suspected abuse. "Mandatory reporters recognize, respond, and report [abuse], and then you're done," said Mitchell. On the other hand, "account-ability can be a lifetime commitment." Mitchell defined accountability as being informed, knowing limitations, providing ongoing support, and making a difference.
Some may find it difficult to hold a fellow Christian accountable for their actions, especially if the perpetrator is well known and loved. However, that should not impede the reporting process. "Our duty is to report," said Tony Anobile, NAD vice president for Multilingual Ministries. "It is uncomfortable, and sometimes it puts us at odds with people, but I would rather do that and know that I've done my job and have a clear conscience than try to look the other way and not do anything."
Blakeney-Mitchell emphasized the same sentiment: "Regardless of whether you're a mandatory reporter, you're accountable for your brother, your sister. Community accountability, especially when it's in the church, is going that extra mile. When communities take on the mission of accountability, progress is imminent." [Mylon Medley, North American Division News]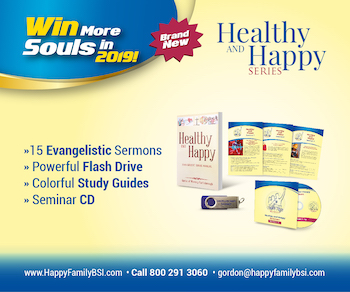 ---
Ministry reserves the right to approve, disapprove, and delete comments at our discretion and will not be able to respond to inquiries about these comments. Please ensure that your words are respectful, courteous, and relevant.
comments powered by Disqus